Here's how the Real Estate Market in Robertson County did in August 2021
During the month of August, there were 226 Single Family Homes on the market in the Robertson County area.
The average sale price was $340,527. These homes closed at an average of 99.8% of their list price with the average days on market at 59.
111 homes closed during August. There were 177 new listings and 212 homes went under contract.
There was 1.7 months of inventory available. Making this a Sellers Market. According to Realtor.com* – A balanced market typically equates to 6-7 months of supply; while a buyer's market equates to 7 months of supply and above; and a seller's market equates to 6 months of supply and under.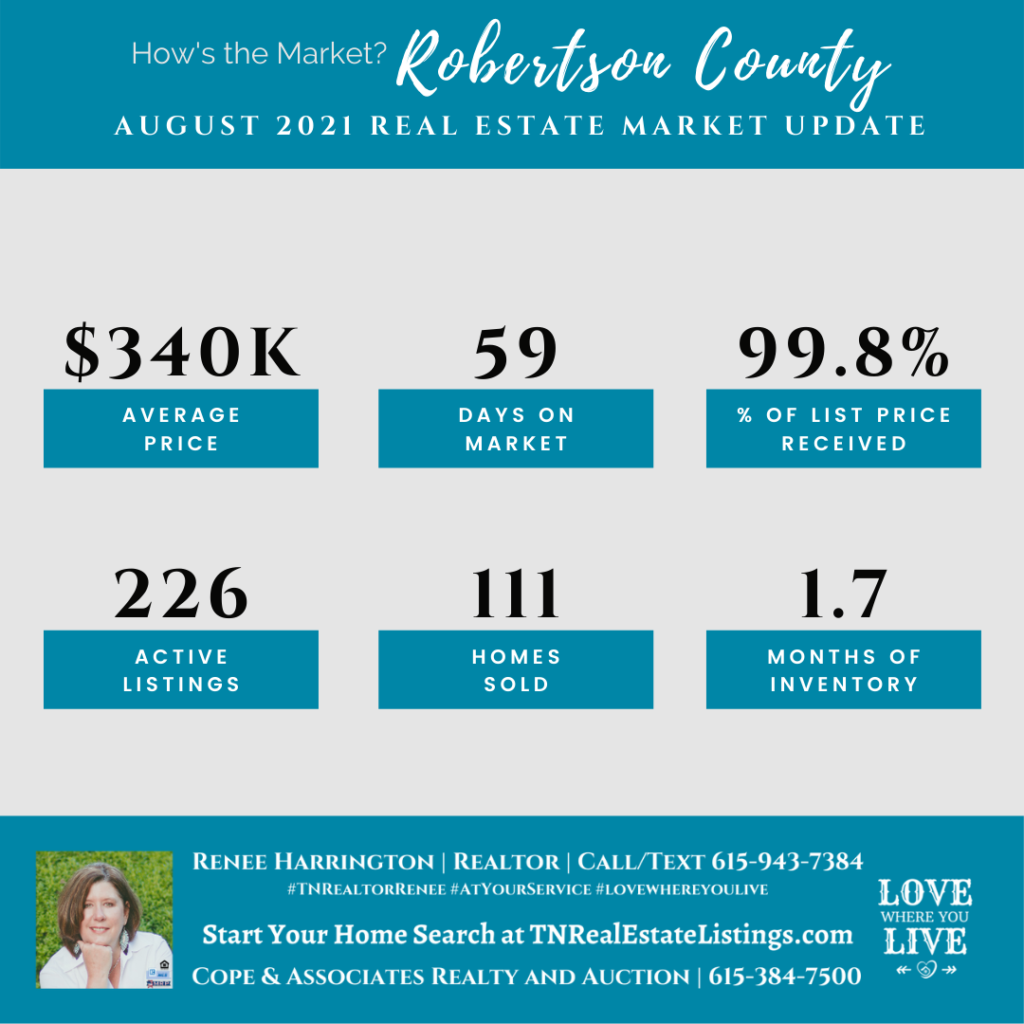 That's all for this month's report. If you're curious to know what your home might bring on the market or if you're ready to sell, give me (Renee Harrington) a call. I'm at your service!
Renee Harrington | #Realtor | 615-943-7384 Call/Text 
Cope & Associates Realty and Auction, LLC 615-384-7500 Office   
You can find me at:
Website: https://tnrealestatelistings.com/featured-listings/ 
Facebook: https://www.facebook.com/TNRealtorRenee/ 
Instagram: https://www.instagram.com/TNRealtorRenee/  
Linkedin: https://www.linkedin.com/in/tnrealtorrenee/ 
Twitter: https://twitter.com/TNRealtorRenee 
YouTube: https://www.youtube.com/channel/UCFCef03hSDb6clQ-HnINIOg 
HomeSnap: https://www.homesnap.com/Renee-Harrington-
Book an appointment with me: https://calendly.com/soldrenee
Serving areas #northofnashville #robertsoncounty #springfieldtn #crossplainstn #whitehousetn #orlindatn #portlandtn #greenbriertn #adamstn #cedarhilltn #coopertowntn #pleasantviewtn
#lovewhereyoulive #TNRealtorRenee #AtYourService #reneeharrington #soldrenee #realtor #relocation #firsttimehomebuyer #househunting #newhome #realestate #homesearch #dreamhome #homesweethome #realestateforsale #newconstruction #homesforsale #listings #wannabuyahouse
* https://www.realtor.com/research/tag/months-supply/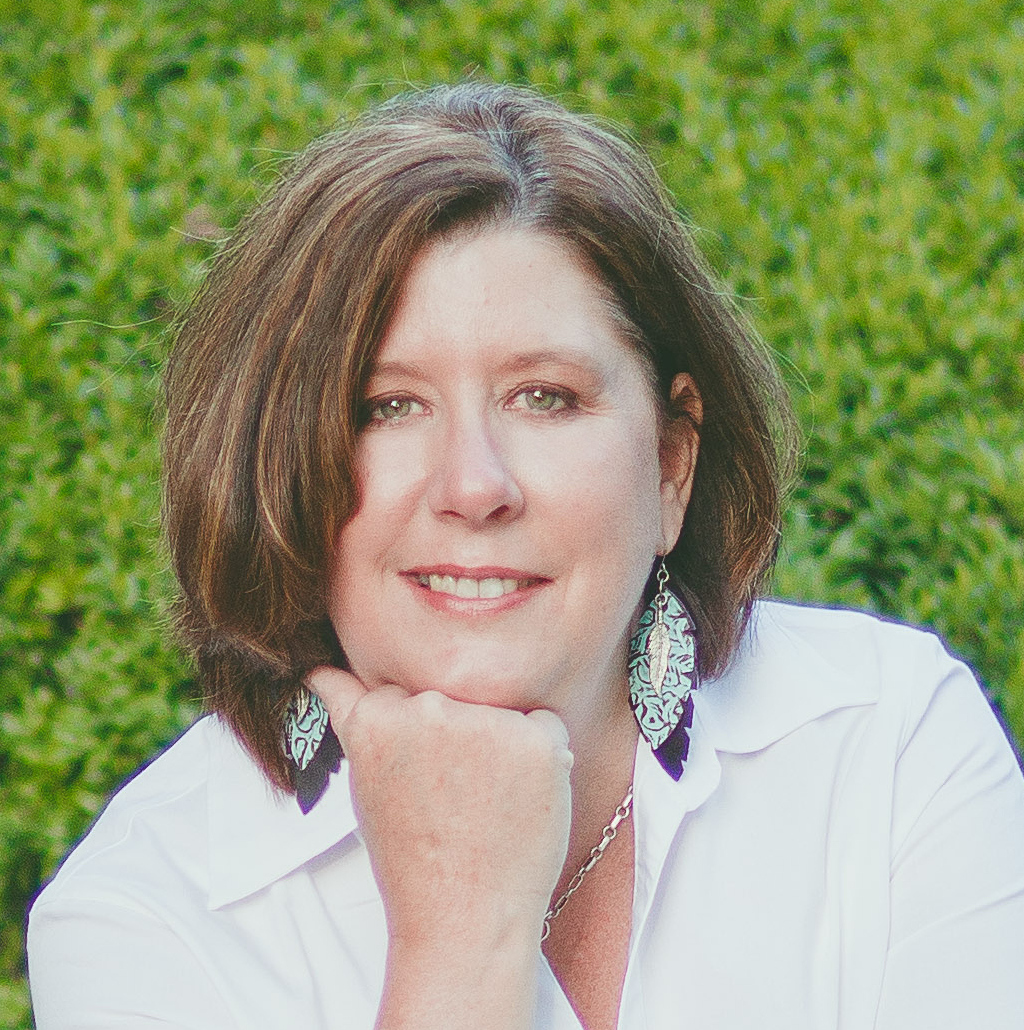 Thinking of selling your home?
Request a free SOLD Seller's Guide 
in the mail – request it at: https://tnrealestatelistings.com/sellers 
Thinking of buying a home?
Request a free Buyer's Guide at: https://tnrealestatelistings.com/buyers 
Realtor Since 2003 – Renee offers old fashioned customer service, using leading edge technology.
Specialties:
Listing Agent
Buyer's Agent (♥ 1st Time Home Buyers & Relocation )
New Construction
Call me! I'm at your service!!
Renee Harrington | Realtor | 615-943-7384 Cell
Cope & Associates | 615-384-7500 Office 
Facebook:https://www.facebook.com/TNRealtorRenee/
Instagram: https://www.instagram.com/TNRealtorRenee/
Search Current MLS Listings and setup auto notifications
to receive new listings within an hour of hitting the market on my
website at: https://tnrealestatelistings.com/property-search/
#lovewhereyoulive #tnrealtorrenee #tnrealestatelistings.com #reneeharrington #soldrenee #realtor #wanttomove  #relocating #relo #firsttimehomebuyer #househunting #newhome #realestate #homesearch #dreamhome #dreamhouse #beautifulhomes #realestateforsale #newconstruction #newhomes #homesforsale #homesale #home #housing #listing #forsale #location #locationlocationlocation #northofnashville #robertsoncounty #springfieldtn #crossplainstn #whitehousetn #orlindatn #portlandtn #greenbriertn #adamstn #cedarhilltn #coopertowntn #pleasantviewtn